County Clerk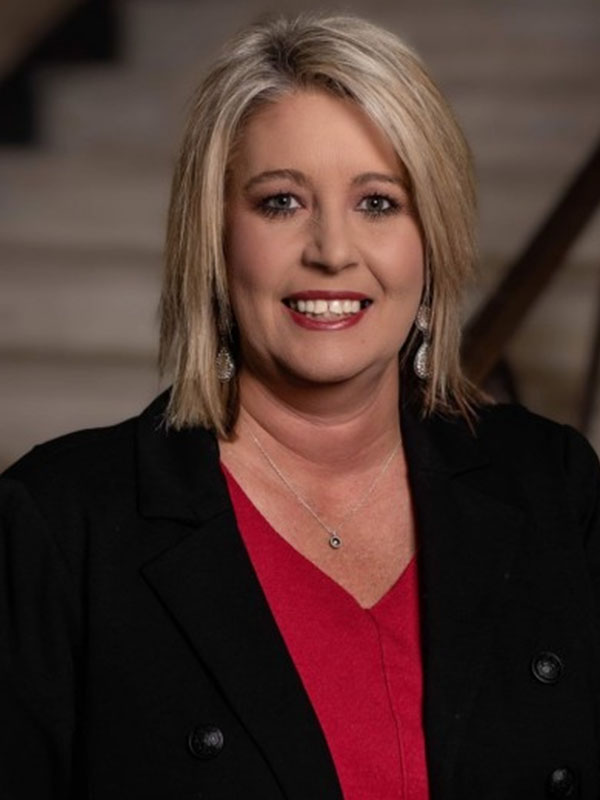 Mandi Fudge
County Clerk / Probate Clerk / Voter Registrar
---
Contact
101 North Washington
Suite 102
El Dorado, Arkansas 71730-5661
Phone:
(870) 864-1910
Fax:
(870) 864-1927
Office Hours
M-F (8:00 am - 4:30 pm)
Closed Federal/State Holidays
with the exception of Columbus Day
Staff
Taylor Castleberry, Chief Deputy/Payroll
Letha Emanuel, Probate
Lauren Ponthieux, Accounts Payable
Alice Lowery, Elections/Absentee Ballots
Chris Atkins, Records
Union County Precincts/Polling Centers:
Ward #1 - Fairgrounds (1432 9Th St, El Dorado )
Ward #2 - Hillsboro Church Of Christ (1322 W. Hillsboro, El Dorado)
Ward #3 - St. James Baptist (608 S. Mlk. Jr. Blvd., El Dorado)
Ward #4 - Municipal Auditorium (100W. 8Th St, El Dorado)
Aurelle / New London / Strong - Strong First Baptist Church (544 S. Concord, Strong)
Junction City – Jct. Cty City Hall (207 N. Main, Junction City)
Country Box 1 / Country Box 7 / Hibanks - S. Ark C.C. East Campus (3696 E. Main, El Dorado)
County Box 2 / Caledonia - Mt. Union Church (653 Mt.Union Rd, El Dorado)
County Box 3 - Parkers Chapel First Baptist Church (2975 Haynesville Hwy, El Dorado, Ar 71730)
County Box 4, 6 - Wyatt Baptist Church (4621 W. Hillsboro, El Dorado)
Calion - Calion Community Center (159 N. Hoover, Calion)
Union - Union Baptist Church Family Life Center (144 Crain City Road, El Dorado)
Norphlet - Norphlet City Hall (101 E. Padgett, Norphlet)
Smackover - First United Methodist Church (500 W. 5Th, Smackover)
Mt Holly / Lisbon / Wooley's Store - Mt Holly Community Church (2935 Stephens Hwy, Mt. Holly, Ar 71759)
Three Creeks / Wesson - Three Creeks Baptist Church - 8772 Haynesville Hwy, Junction City, Ar 71749
Huttig - Huttig Community Center (501 Frost St, Huttig)
Felsenthal - Felsenthal Town Hall (1000 S. 3Rd, Felsenthal)
Lawson - Lawson Fire Department (140 Mccall, Lawson)
All Polling Sites Are Now Voting Centers
DOCUMENTS IN COUNTY CLERKS OFFICE:
Marriage Records: 1885 - Current
Probate court / small estate, guardianship, commitment, adoption and ministers credentials.
COUNTY COURT:
Orders
Proclamations
Contracts / Agreements / Leases
Annexations
QUORUM COURT:
Ordinances
Resolutions
Minutes
Contracts / Agreements / Leases
REGULAR MONTHLY MEETINGS: 3RD THURSDAY
10 a.m., 3RD FLOOR CONFERENCE ROOM
UNION COUNTY CLERK FEES:
Certify and Seal Documents - $5.00
Marriage Licenses - $60.00 (Cash Only)
Copy of a Marriage License - $1.00
Certified copy of a marriage license - $5.00
Underage marriages (Petitions and Orders) - N/A
County court case - $30.00
Petition for adoption - $165.00
Probate case - $165.00
Reopen probate case - $50.00
Affidavit of small estate - $30.00
Letters of administration / Testamentary - $5.00
Letters of guardianship - $5.00
Filing affidavit of claim against estate - $5.00
Filing and recording all accounts and settlements - $50.00
Certified copies of all letters - $5.00
Issuing subpoenas or summons - $5.00
Authenticated copies - $5.00 (+ $.50 per page)
Assumed names / DBA $26.00
Financial (Accounts Payable &Amp; Payroll) Records
County Funds:
General Funds
Highway Fund
911 Fund
Cost Recorder Fund
Child Support Fund
Public Defender Fund
Recreational Complex Fund
Solid Waste Cap Fund
***There Are Several New Funds. Above List Just A Few Main Funds
Voter Registration & Election Records:
Voter applications/precinct voter lists/absentee ballot applications & designated bearer lists/ certified election results/ statement of financial interest/political practice pledge/ campaign contributions- expenditure reports
Maps:
Voter Precinct/Election Districts/School Districts
Union County Election Commission:
Cliff Wright - Chairman (R)
Mike Hayes - (R)
Floyd Thomas - (D)
Union County Equalization Board:
Jim Peace
P.V. Griffin II
Yvonne Henry
Betty Mcghee
Aubra Anthony
Duties of the County Clerk
The County Clerk is the official bookkeeper of county government and serves as the clerk for the county and probate courts. The clerk keeps a regular account between the treasurer and the county. The clerk prepares all checks on the treasury of monies ordered to be paid by the county court. The County Clerk keeps complete, permanent records of the proceedings of the quorum court. In probate court, the clerk files instruments in decedent estate cases. The clerk maintains adoptions and guardianship records within the county.